I am so late on this blog post - sorry! I headed off to New Zealand on the 5th of March, only to be welcomed upon my return by two of the most lovely visitors Gary (Glen's brother and friend of over 15 years! And his Mrs, Nicole.) Needless to say the days starting blending together and I couldn't be bothered posting whilst having fun. So. On that note, here goes New Zealand.
**Note: Copy will be heavy up top, bear with me for the photos to follow further down - it's worth it.
As much as I've been traveling, this was the first international flight I've taken since I stepped off my Delta flight in January. I landed in Auckland during rush hour, and didn't realize that the AirBnb I booked was north of the city and I was currently on the southside. After about a two-hour drive and finally getting to my accommodation, I was a bit disappointed to find out that the place I booked was more of a hostel than an actual AirBnb. And it was in the middle of a nowhere-neighborhood (and there were two daddy long legs living in the nightstand by my bed. Igh.) I hopped back into my car, drove to some weird hotel restaurant and called it an early night - opposite the spiders.
The next morning I took off early for Cooks Beach on the Coromandel Peninsula. I rented a room with a lovely couple (Joanne and Frank) and they were going to cook me dinner that night. Woo! I stopped for a takeaway coffee somewhere between fields, sheep and cows, and discovered for the first time that my credit cards don't really work in New Zealand. Shit. And I had no cash. She gave me the coffee on the house. Thank God - next stop, ATM. Actually next stop(s), Cooks Beach because there were not stores in between. Met with my hosts, dropped my bags off and headed at their recommendation to hike Cathedral Cove. It was a fairly hot, but beautiful day for a hike. After a good hour or so of walking and stopping to take photos I ended of at the Cove. Unreal.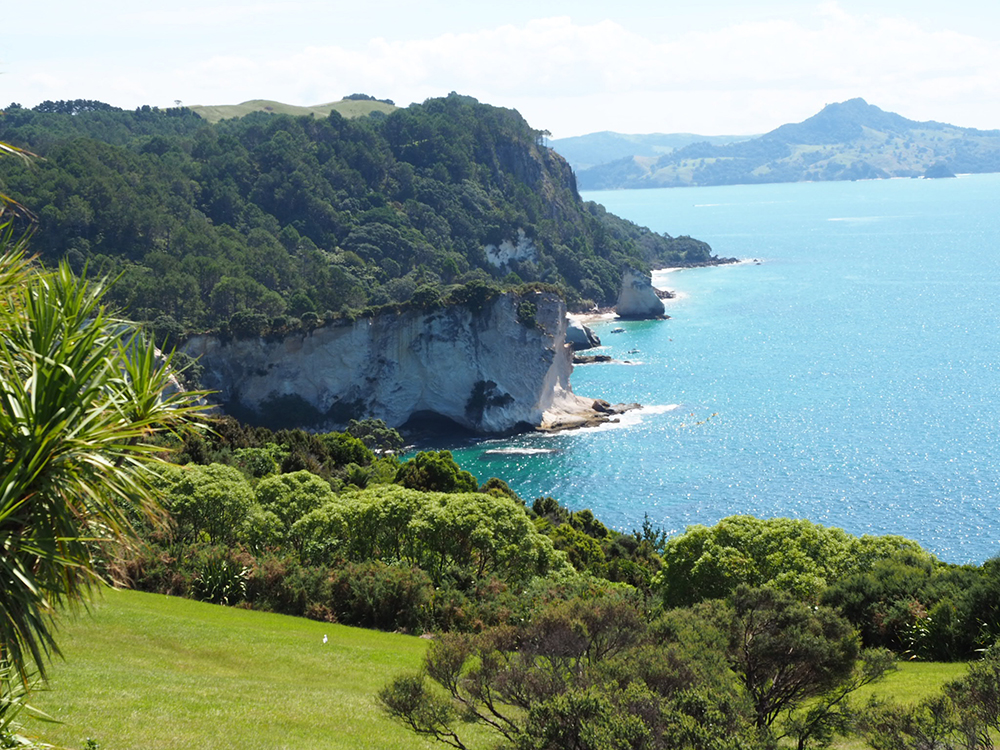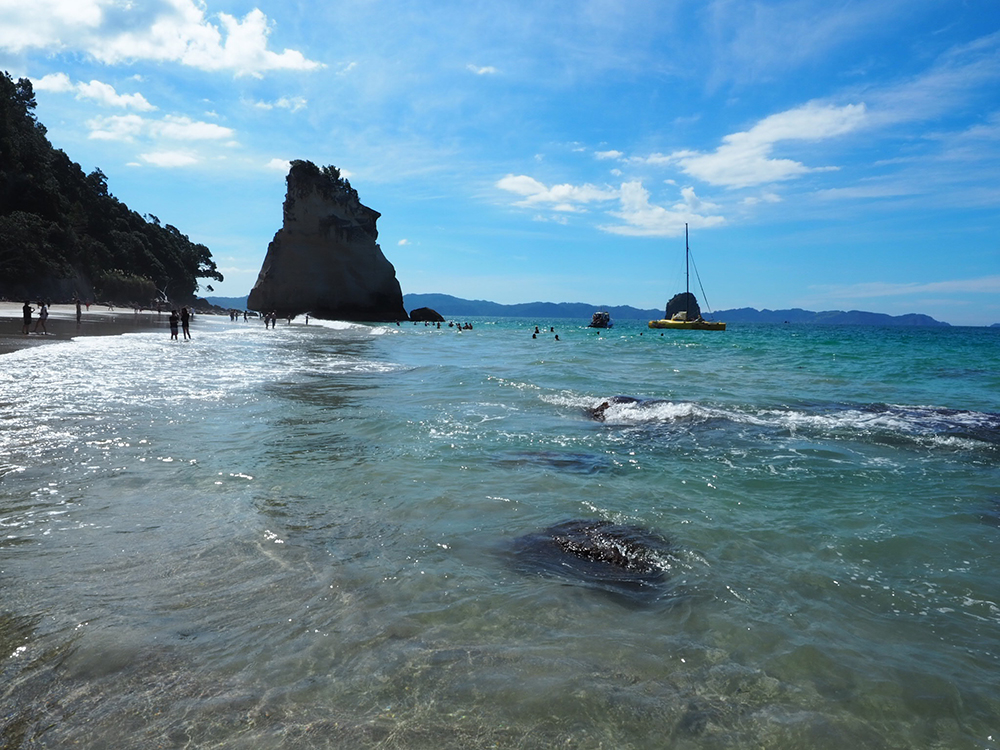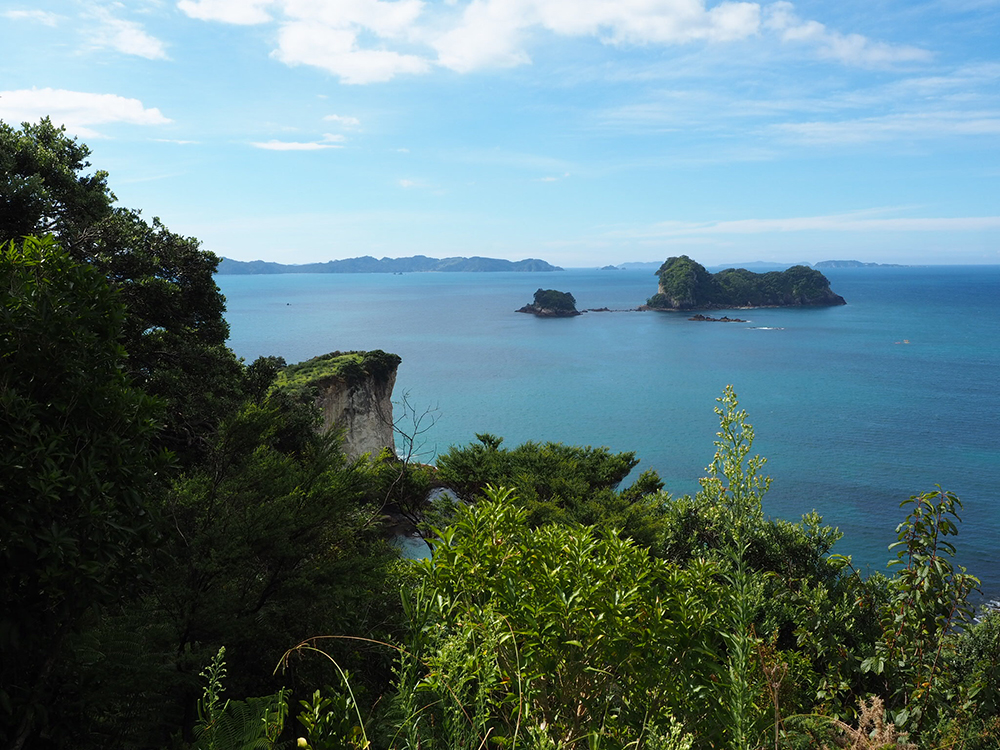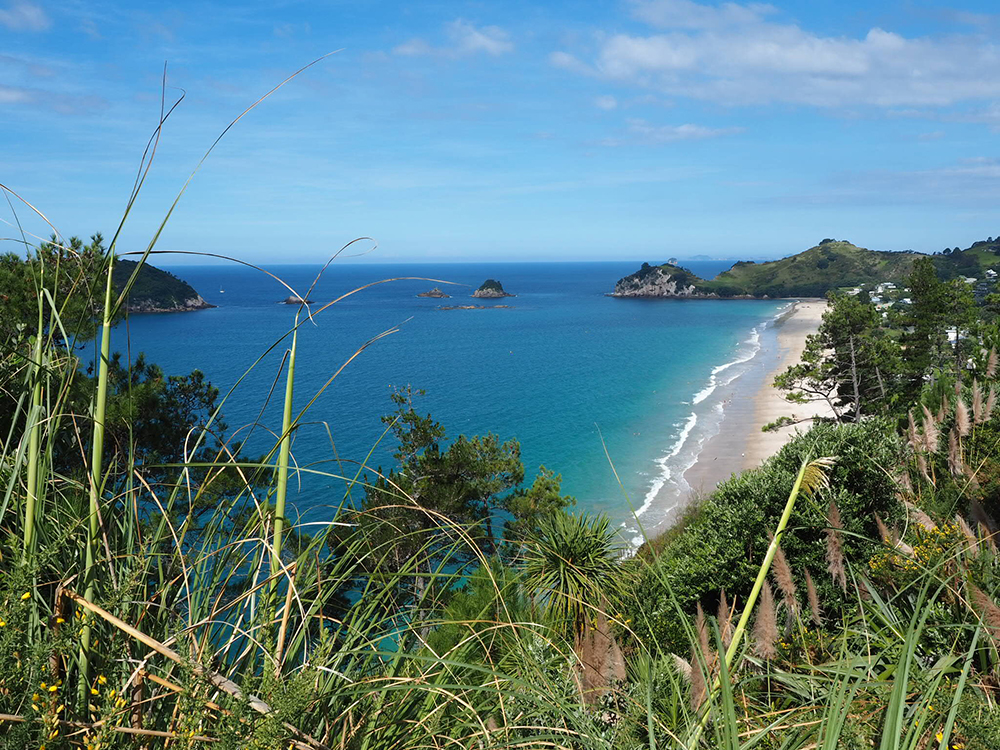 I was going to head to nearby Hot Water Beach but I was hot, a bit tired and had a date with my hosts for dinner at half-six. So instead of Hot Water Beach, I stopped for an ice cold beer and headed back for a shower. Frank and Joanne made possibly the best meal I've had thus far - started with happy hour of gin and tonics (with limes from their trees!) with a spread of guacamole, brie, olives and veggies, followed by a bottle of New Zealand Sav Blanc, and all locally-sourced lamb, potatoes and salad. Even cracked open another bottle of wine for the candied pear dessert. Needless to say bedtime wasn't far off.
Got up early the next morning, took a long walk along Cooks Beach, showered and headed to Hobbit land. This was the first trip I've done that I planned all my nights ahead of time - due to a pretty rainy forecast. Tonight I was to stay in the small village of Cambridge, so I had to choose my day's adventures wisely. I decided today was Hobbiton, Rotorua and/or the Waitomo Glow Worm Caves. By the time I got to Hobbiton, the queue for the tours would have had me occupied for the next 5 hours. So again, I decided to have some lunch and head to Rotorua. I did, however take a picture of the sign.
I'm so happy I went to Rotorua. I've heard some mixed reviews, but I was completely blown away - and it was raining! Stopped at the visitor center for some advice and headed out to explore. Rotorua is known for its geothermal activity, and features geysers and hot mud pools. This thermal activity is sourced to the Rotorua caldera, on which the town lies. So frickin' cool. The photos below are from Kuirau Park and Lake Rotorua.
And of course, I stopped for a beer. And there was a Prince-inspired beer. Ha!
Left for Cambridge, where I was welcomed by Danielle, her wonderful family of seven and a glass of wine. She offered to take me out to dinner (I think she needed a night out from her five kids) and we giggled our way through some amazing wine, fried chicken and asian slaw. We biked home in the pouring rain and it felt like I was ten-years-old again. Great night.
The next morning I was greeted with a delicious flat white espresso and headed to the worm caves. I wasn't all that impressed with the glow worm tour - felt a little Disney-esque, but the hike I did afterward was really cool (and of course ended it with a beer.) And PS, they wouldn't let you take pictures in the caves so the photo below is of a postcard. Hehe.
The next few nights I was to stay outside of Tongariro National Park with the goal of hiking the Alpine Crossing the next day. The Tongariro Alpine Crossing is a 19.1K (12.1) mile track that passes over the volcanic terrain of the multi-cratered active volcano Mount Tongariro, passing the eastern base of Mount Ngauruhoe.
This was a must-do while on the north island. Unfortunately, the weather was against me. The original shuttle I had scheduled canceled due to gale-force winds. However, sneaky sneaky me, I booked two shuttles and the other one was on schedule.
All bundled, packed and ready to go, I boarded the shuttle. It ended up being one of the most fantastic hikes of my trip. I befriended an Estonian gal and we conquered all 19 kilometers of the mountain. It was terrifying. It was breathtaking. It was incredible.
Went to bed at 8 PM that evening. Exhausted but proud.
The next morning I picked up my Estonian friend and we headed for Wellington - her for a flight and me to meet my friend from Women in AV, Laureen.
Laureen's house sits atop Wadestown in a giant old Victorian house - which seems to be necessary because there were about ten of us staying there (Laureen's husband, brother-in-law, nephew, daughter, granddaughter and some boarders). I helped with a bit of yard work and settled down to some beers and conversation with the crew. We ended the evening with a splash in the hot tub.
The next day we set out to tour the city - which is absolutely beautiful by the way. The entire city sits atop rolling hills and cliffs that give way to the CBD eventually ending at numerous aquamarine bays. After a nice drive we headed in to the festival by the bay, had some lunch and did some exploring. Weather in Wellington is a bit hit-and-miss but we got a beautiful HOT day. Wellington's fringe festival was in full swing, so we picked up some tickets to a performance later that evening. All-in-all a great day, followed by a great evening.
My flight the next didn't leave until 3 PM do my plan was to pack up and head to the city and take more photos, but that was a bit derailed when I couldn't find a place to park and almost killed someone with my rental car.
I headed back to Sydney to meet my friends. Waiting on some photos from their visit and then I'll post the mayhem from last week. Today I am hopping on the Indian Pacific Railroad to Perth. Not sure what service I have, but hopefully I can post as I go on this one (assuming I'll have some time considering we'll be covering 4,352k.